Jeanie Macpherson is best known as Cecil B. DeMille's screenwriter since she collaborated exclusively with the director-producer from 1915 through the silent era and into the sound era, in a working relationship lasting fifteen years. Like many other women who became established as screenwriters, she began her career as a performer, first as a dancer and then as an actress. Her numerous acting screen credits begin in 1908, and nearly thirty of the short films she appeared in for the Biograph Company, most directed by D. W. Griffith, are extant. At Universal Pictures, Macpherson began to write, but due to a fluke she also directed the one film that she wrote there—a one-reel Western, The Tarantula (1913), according to a 1916 Photoplay article (95). Although Anthony Slide cannot confirm the success of the film, both he and Charles Higham retell the story that when the film negative was destroyed by accident, the actress was asked to reshoot the entire motion picture just as she recalled it since the original director was unavailable (Slide 1977, 60; Higham 1973, 38).
There are several versions of how Jeanie Macpherson, out of work after The Tarantula, was hired by DeMille at the Jesse L. Lasky Feature Play Company. The most elaborate version is from Higham, who describes Macpherson's attempt to get an acting job as involving a series of battles between the two while the director was shooting Rose of the Rancho (1914) (38–40). The tempestuousness of their relationship is echoed in DeMille's account of their final breakup at a luncheon thirty years later: "I disagreed with Jeanie rather sharply—she got up and left the table—I said, if you go now you can't come back" (BYU, Dec. 1953 note, box 15, fldr. 65). Stormy or not, the relationship appears to have been highly productive, if screen credits are any indication. Of the silent films produced and/or directed by DeMille in the 1915–1930 period, Macpherson is given scenario credit on thirty-two (Cherchi Usai and Codelli 1991, 20). Still, the question of DeMille's relation to Macpherson has continued to color the assessment of her involvement in the silent film industry, where she was on the board of Palmer Photoplay Company and listed as a founder of the Academy of Motion Picture Arts and Sciences.
The director's niece Agnes deMille (different spelling) confirms that Macpherson was one of DeMille's three mistresses, the others of whom were the actress Julia Faye and his secretary Gladys Rosson, liaisons publicly accepted by Constance DeMille, the director's wife (deMille 1990, 182–183). The significance of Macpherson's part in her collaboration with DeMille, however, still needs to be clarified, particularly since the record is contradictory. In a 1957 interview DeMille says of Macpherson: "She was not a good writer. She would bring in wonderful ideas but she could not carry a story all the way through in writing. Her name is on many things because she wrote with me. I carried the story and she would bring me many, many ideas. You'll find her name on a lot of scripts." The daughter of Beulah Marie Dix (Flebbe), Evelyn Flebbe Scott, recalls that her mother, one of the top Lasky Company writers, although more impressed with screenwriter Frances Marion, still respected Macpherson for understanding exactly what DeMille wanted in every scene: "Mother never really thought of her as a writer, but as an exceptional collaborator for an exceptional man… Jeanie had a genius (for some reason everybody called her 'Janie,' so there is no alliteration) for putting this on paper" (70). Yet another story is told by the salary records of the Famous Players-Lasky Corporation. In 1918, Macpherson was making less than Marion Fairfax but more than Dix, and by the mid-1920s, she was the highest paid employee in the scenario department.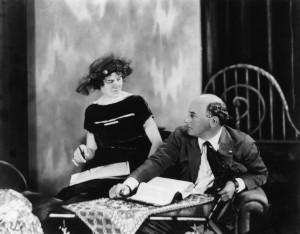 DeMille credited Jeanie Macpherson and paid her well, but may not have fully understood her point of view. In his autobiography he praises her choice of the title for his 1917 film about Joan of Arc, but while he says he sees the title Joan, the Woman as emphasizing the "humanity" over the sainthood of the historical figure, he doesn't mention that the film turned her into a "woman" by giving the celibate saint a torrid romance (DeMille 1959, 171). In 1924, DeMille made some attempts to secure for Macpherson the rights to the original stories that she had written for him. These included Forbidden Fruit (1921), Adam's Rib (1923), The Little American (1917), Don't Change Your Husband (1919), and The Ten Commandments (1923) (Higashi 1994, 227). Macpherson is also credited with Hector Turnbull on the DeMille classic, The Cheat (1915), the Gloria Swanson vehicles Male and Female (1919) and Manslaughter (1922), and many of the melodramas of marriage and divorce for which the director was legendary, although he later mused that she probably didn't take as much credit as she might have (DeMille 1959, 342). Since about seventy-five percent of the films on which Macpherson's name appears survive, a more in-depth analysis is due, beginning with her original story for The Little American (1917), a Mary Pickford vehicle. Set in the US prior to and during World War I, the film features Pickford as an American girl heiress (Angela Moore), torn between German and French suitors. Her indecision is played out over the siege of her aunt's French chateau, where she is attacked by her own former lover, the German Karl, who fights her in the dark until the lights go on and her identity is revealed. Karl renounces Prussian ruthlessness, but is still unable to keep the German officers from attacking women, and the Pickford character complains in the intertitle: "Somewhere in this house—there must be a man who is something more than a splendidly drilled beast!" The American flag-waving patriotism, ordered by studio head Jesse Lasky in a 1917 letter to DeMille, may be excessive for later decades. Standing for all Americans, Pickford single-handedly proves to be more courageous than the French, who appeal to her to intervene to stop a firing squad. Although the film retains the characteristic lightheartedness of a Pickford comedy, its structure calls attention to the ludicrousness of war by juxtaposing stubborn love with belligerent animosity. The Little American deserves comparison with at least one of Marion's screenplays for Pickford. Like The Love Light (1921), which Marion wrote and also directed, The Little American is an antiwar film, and in casting Pickford in films about the heart-wrenching trauma of World War I, both films dare to add bitterness to the sweet Pickford persona.
More research needs to be done on DeMille's total paternalism, which extended to his talented secretary Rosson as well as to Academy Award-winning editor Anne Bauchens, both of whom, like Macpherson, never married. DeMille's guardianship involved managing Macpherson's finances—deducting her back income taxes from her salary—and even rescuing her from bankruptcy after their relationship had ended around 1930. The end of the relationship was the end of her career, and she died August 26, 1946.
We are left to interpret documents like Macpherson's portrait of the producer titled "DeMille," where she defends him fiercely, attempting to soften the man who was known for his cold monomania: "Scintillating, dominant and magnetic. Or as shy as a boy at graduation is Cecil B. DeMille. A connoisseur of rare tapestries, and gems, and human beings." Jeanie Macpherson's own capabilities should not be in question, however, as much evidence points to her New Woman risk-taking resourcefulness, the most well-known example of which was her passion for piloting airplanes (Beach 54).
With additional research by Elisa Lleras
See also: Gladys Rosson, "Shaping the Craft of Screenwriting: Women Screen Writers in Silent Era Hollywood."