← News Archive
Book Publication: Pink-Slipped: What Happened to Women in the Silent Film Industries? by Jane M. Gaines
Out this month via University of Illinois Press: Pink-Slipped: What Happened to Women in the Silent Film Industries? by Jane M. Gaines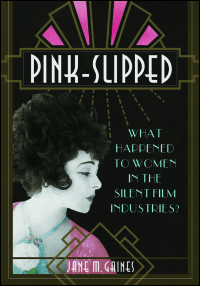 From the University of Illinois Press website:
Women held more positions of power in the silent film era than at any other time in American motion picture history. Marion Leonard broke from acting to cofound a feature film company. Gene Gauntier, the face of Kalem Films, also wrote the first script of Ben-Hur. Helen Holmes choreographed her own breathtaking on-camera stunt work. Yet they and the other pioneering filmmaking women vanished from memory.
Using individual careers as a point of departure, Jane M. Gaines charts how women first fell out of the limelight and then out of the film history itself. A more perplexing event cemented their obscurity: the failure of 1970s feminist historiography to rediscover them. Gaines examines how it happened against a backdrop of feminist theory and her own meditation on the limits that historiography imposes on scholars. Pondering how silent-era women have become absent in the abstract while present in reality, Gaines sees a need for a theory of these artists' pasts that relates their aspirations to those of contemporary women.
A bold journey through history and memory, Pink-Slipped pursues the still-elusive fate of the influential women in the early years of film.
***
"An eye-opening look at these innovative film pioneers and their relevance today, supported by extensive research and in-depth presentation and an insightful examination of the historiographical process itself. This scholarly narrative is an informative addition to film, cultural, and feminist history collections, prompting additional study and discussions."– Library Journal
"A preeminent and provocative feminist historian of early cinema, Jane Gaines has always balanced empirical research with philosophical interrogation of how 'history' as an object of knowledge is itself historically conceived, practiced, and legitimated. She goes even further in Pink-Slipped, developing a 'melodramatic theory of historical time' that should be read by every historian, whatever their focus. A groundbreaking and brilliant book!"–Vivian Sobchack, author of Carnal Thoughts: Embodiment and Moving Image Culture


"This is not simply a book about the historiography of early film history or women's place in it. Gaines's larger argument is more ambitious, as she attempts to trouble, complicate, and inject some skepticism into the historical project in which she and others are engaged."–Patrice Petro, author of Idols of Modernity: Movie Stars of the 1920s


"Jane Gaines has been our great pioneer of feminist film history, blazing a trail into the neglected terrain of women filmmakers, particularly during the silent era. In this complex new work she traces a path into controversial areas of the theory of history and the goals of feminist film studies. This is a book that questions assumptions and will agitate our field."–Tom Gunning, author of D.W. Griffith and the Origins of American Narrative Film: The Early Years at Biograph